| | | | |
| --- | --- | --- | --- |
| The Account Balance Feature | | | |
Written by Dan Bloomquist
Friday, 02 December 2011 19:37
Account Balances
This feature is optional. Most studies are done with a single checking or money market account that may acrue interest on deposit. In that case you would just use the direct entry 'Begining Balance', 'Interest Income Rate, and 'Income Tax Rate'. The tax rate is on interest income.

~~~~~~~~~~~
There will be times that the reserves will be kept in multiple accounts. You would have a checking/money market account and may keep excess funds in more than this first account. For instance, you may know you will not need some given amount of money for a time and have it placed in a certificate of deposit to gain more income from interest. Pushing the 'Beginning Balance' button will bring up a multi account system.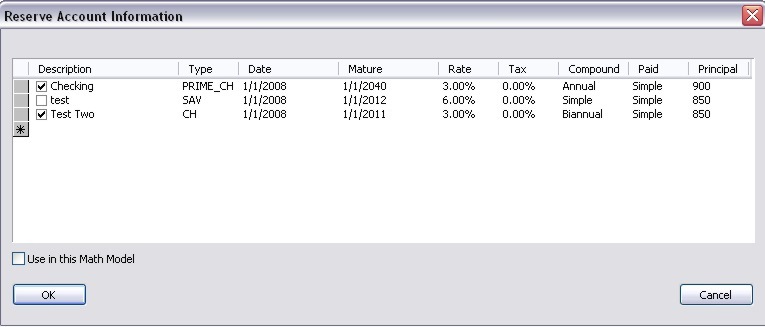 Here are the rules thus far.
The first account entry is the primary checking account. It is fixed in first place and does not expire for the duration of the study.
The rest of the accounts can be set to expire when you would like and put in any order. As long as they do not expire and there are sufficient funds for the reserve expenditures, they will stay in place. If in any future year there are not sufficient funds for expenses, they will be withdrawn from the accounts in the order they are listed. If the account is of type CH(checking), SAV (savings), or MM(money market), the assumption will be that money can be taken as needed. i.e., only the amount required will be withdrawn. If the account is CD(certificate of deposit), it will be assumed that it is contractual that the whole amount be withdrawn and that will be put into the primary checking. With the projection showing in the math view there is an option to copy the account schedule to your clipboard. This can be pasted into word or any rich text document in the report. It could also be pasted into the summary text if you would like.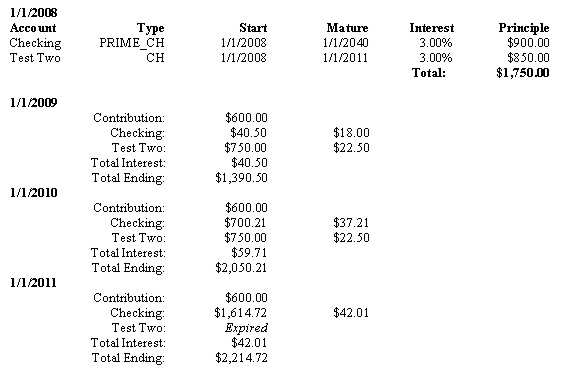 If there is a penalty for breaking a CD you would probably want to create a component with a one time replacement to show this expenditure. We do not attempt to show this information automatically as it probably would not be the way you would want do it.
The rework of this feature was finished on Dec 1, 2011. The infrastructure is now in place to extend this as the need arises.
Thanks, Dan.
Last Updated on Friday, 18 July 2014 13:18
Copyright © 2020 Reserve Analyst Software. All Rights Reserved.
Website Powered by
Joomla
&nbsp &nbsp &nbsp
Click Here